It's back to some YA (well, closer to NA actually), teen drama goodness for today's Read-it-if Review, with the cheerily titled Cooper Bartholomew is Dead by Rebecca James (Australian! Woot!).  I was kindly provided a copy of this intriguing tale of mystery and romance by Allen and Unwin in exchange for review.
The body of Cooper Bartholomew is found at the base of a cliff and all who knew him are shocked and devastated at Cooper's tragic end, presumed to be suicide.  But what could possibly have caused good looking, charismatic, newly-in-love Cooper to end his life in such a way?  Told from multiple points of view and jumping between the weeks before Cooper's death and the weeks after, the story of Cooper, his new girlfriend Libby, and old friends Claire and Sebastian unfolds to reveal some long-held secrets that might shed light on why Cooper died…and whether anything could have been done to prevent it.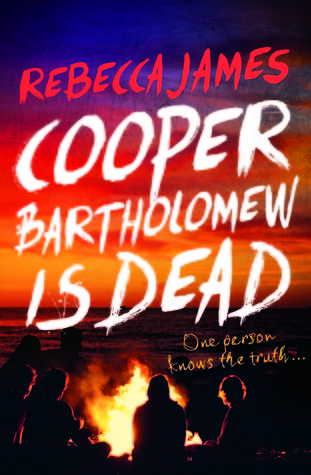 Read it if:
*you like a mystery that slowly unravels, leaving suspicion, doubts and a little bit of tangled yarn at the end
* you like your YA characters to be believable, rather than two-dimensional or stereotypical (or both)
*you've been waiting and waiting for a YA novel to feature the fates and fortunes of the post-high-school set in small town Australia
Straight off the bat, let me say how impressed I was with the overall experience of reading this book.  The plot is tight, the narrative style is interesting and well constructed and the characters – oh the characters! – are so believable it's almost painful.  James has done an incredible job, in my opinion, of creating characters that represent pitch perfectly the range of vices and virtues that appear in all of us once school is over and done and we have to figure out who we're going to be in this strange real world.  This was the greatest strength of the story for me and ultimately what kept me interested through the mushy romance bits between Cooper and Libby.  Well done Rebecca James *insert sound of stone paws clapping heartily here*
Another great bit about this reading experience is the narrative style that features multiple points of view and multiple timeframes.  Regular readers of this blog should know that I just love this writing style and once again it drew me into the story with short, engaging chapters introducing the characters and their relationships in a highly readable way.  In fact, the book opens with Cooper in his final moments pre-death and his surprisingly lucid musings are a great launching point to plunge (sorry, horrid pun in the circumstances) right into the tangled web of secrecy that has led to this point.
Regarding the plot and the elements of mystery surrounding Cooper's seemingly happy life and strange and unexpected death, clues are thrown out fairly early for the keen-eyed reader but the whole situation is not revealed until the final few chapters, keeping the suspense high throughout.  I admit that I did have my suspicions about halfway through the book, and these turned out to be kinda right and kinda wrong, so in the end I was satisfied with both my level of sleuthery and the author's level of tricksiness.
This book is going to appeal to a whole range of YA/NA fans – fans of standard contemporary romance, fans of mystery, fans of friendship dramas – and even if you aren't a big YA fan, the writing and characterisation is strong enough to draw you in anyway, despite the age of the cast.  I expected that I would be fairly interested in this book, but it has far exceeded my expectations and I will certainly be keeping an eye out for James' other work from now on.
Cooper Bartholomew is Dead is released in October.
Until next time,
Bruce
//