It may seem strange to  you that I even bother going to the library these days, considering I'm close to being asphyxiated under a crushing pile of free books from generous publishers, but I do in fact borrow from the library.  Often this is a completely futile exercise because I don't get to finish the books I borrow due to the massive review pile I am obliged to get through, thus wasting 80 cents every time I place something on hold.
I thought it might be nice to share with you some of the books that I have borrowed and actually will get finished before their return date, and so Library Larks was born!
This time around, all of my choices were inspired by the brilliant bloggers at Read It Daddy!.  Honestly, if you don't follow them, you are doing yourself a grave disservice.
First up, inspired by the heads-up about the third book in a wordless picture book series I hadn't ever heard of, I placed on hold three books by Aaron Becker: Journey, Quest and Return.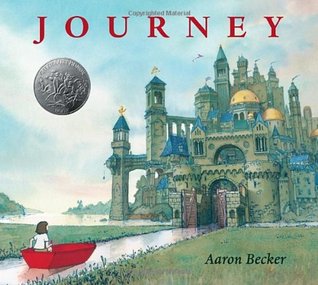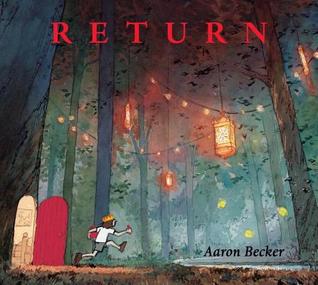 Return hasn't come in yet, but I've already picked up Journey and Quest and I am absolutely blown away at how visually absorbing they are.  I've had a good old gander at Journey and it feels just like Harold and the Purple Crayon for older, more imaginative kids.  I've only flicked through Quest – I've put it aside until I have a spare space of time so I can really pore over it, because it obviously continues the story from Journey and since it's wordless, I need to focus my attention on perusing the visuals.
I think I will have to purchase this unusual trilogy because it has such a magical, mind-expanding quality to the narrative-in-images.
I also picked up Evil Emperor Penguin, a graphic novel collected from the weekly UK comic publication for kids, The Phoenix, which the Read It Daddy! crew are always banging on about.  It seems a bit unfair that the UK has such a brilliant comic come out weekly that I can't get my paws on because it wouldn't be postally feasible.  Anyway, I was happily shocked to see that our local library has some of the Phoenix collections on the shelves!
I look forward to plunging into this one.  I might just end up with a new favourite super-villain!
While I'm here talking about libraries, allow me to give a shout out to the Moreton Bay Council library service because their collection for younger readers and particularly middle grade readers is mightily impressive for a regional council.  May there be many more like it.
So what are you borrowing?  What's your library service like?  Have you read any of these gems?
Until next time,
Bruce